Insulation sets are used to limit corrosion in pipeline systems. Where dissimilar metals are present, the sets remove the possibility of the system acting as a galvanic cell and reduce the rust of galvanic corrosion of the pipework.
Insulation sets are also used to isolation cathodically protected piping systems where they prevent the flow of electro-static charge.
Each flange insulation set comprises one central flat or oval section gasket, one insulation sleeve, two insulating washers and two plated steel washers per bolt. The sets are individually packed and clearly labeled with the flange rating, size, type and material combination.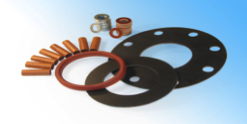 Neoprene

Faced Phenolic

*

CNAF Glass Fiber

Reinforced Phenolic *

Phenolic

Mylar *

Glass rein- forced epoxy resin, G-10

Component

Gasket

Gasket

Insulating

Washer

Insulating

Sleeve

Insulating

Sleeve

Gasket, washer, sleeve

Dielectric Strength

(V/mm)

500

1500

200

140

4000

750-800

Compressive Strength

(N/mm2)

270

-

270

-

-

450

Flexural Strength

(N/mm2)

155

-

155

-

-

450

Water Absorption

(%)

1.6

10.6

1.0

1.0

0.8

0.05

Maximum Operating

Temperature (°C)

107

400

107

107

145

150
* Denotes standard materials
 

W.L. Gore & Associates are the world's leading supplier of expanded polytetrafluoroethylene (PTFE) components used in transport and sealing of industrial fluids.

For over 25 years, GORE™ has been developing a complete understanding of factors that influence the effective sealing of vessels, pumps, valves and piping systems. This enable GORE™ to manufacture a wide range of sealing products renowned for quality and reliability.

At the heart of every product is a proprietary form of expanded PTFE. The unique properties of GORE™ expanded PTFE enable the engineering of high-performance products that are recognized throughout industry as the best on the market.

With this outstanding reputation in the sealing industry a partnership between Klinger Warba and GORE™ was formed. Klinger Warba is now an authorised distributor of GORE™ sealing products to compliment our range of semi-metallic gaskets and Compressed Non-Asbestos Fiber (CNAF) type gaskets.

KWGM IS AUTHORIZED DISTRIBUTOR FOR W.L.GORE, GERMANY IN KUWAIT.